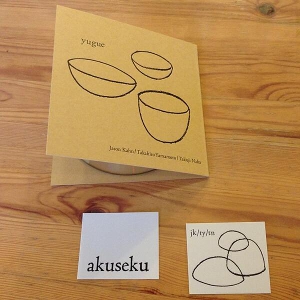 Jason Kahn / Takahiro Yamamoto / Takuji Naka
"Yugue"

Jason Kahn: voice, analog synthesizer, mixing board, short wave radio
Takahiro Yamamoto: turntable
Takuji Naka: saxophone, tape, electronic device

Recorded October 2, 2012 at Yugue
Kyoto, Japan.

"Yugue" documents an evening at a small live space by the same name in Kyoto. The first piece on the CD is a trio concert from myself, Takahiro Yamamoto and Takuji Naka. The second piece is without me.

akuseku 001 CD




hear an excerpt of track 1



Price including shipping to Europe: 12.00 euros

Price including shipping to rest of the world: 14.00 euros

Price including shipping to Switzerland: 10.00 euros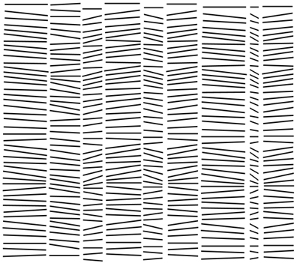 Jason Kahn
"Things Fall Apart"

Jason Kahn: drum set, voice, metal objects, radio, mixing board, contact microphones,
magnetic coil, speaker, computer, chairs, plastic bags

1. Catcher 5.03
2. Im Raum 2.01
3. Dreaming Of 3.36
4. Message For 4.24
5. We Fall 2.51
6. Mornings 5.45
7. Split Hum 5.22
8. Calling 3.27
9. Semblance 2.22
10. An Arc 2.26
11. Wait 1.52
12. Speaker 13 4.06
13. Last Drum 5.55
14. Night 3.47

Recorded in Kunstraum Walcheturm, Zurich, Switzerland on April 14, 2013.
Mixed and mastered May 2-31, 2013.

Cover art Jason Kahn

Herbal Internation 1302 CD

http://herbalinternational.blogspot.ch

Back in 1981 I was studying at the University of London in the School of African and Asian Studies. One lecturer had us read Chinua Achebe's novel "Things Fall Apart." Aside from the book moving me immensely, the title stuck with me all this time. And for the past couple of years I've been turning these words over in my mind, as they seemed to speak so much about what is falling apart around us, in terms of social structures, economies, the environment, even whole nations.
Often when I start thinking about a new work I begin with a title. The sound of the words or their meaning give me a sense of direction to work in. Chinua Achebe died in March this year, and perhaps his passing prompted me to finally get working on this CD. But though I felt these words spoke to me, I still couldn't get a grasp on what they were saying.
The novel "Things Fall Apart" deals with the imposition of British colonial rule over a region in Nigeria and the eventual demise of that society, where, quite literally, everything that bound the indigenous populations together through religion, culture and family falls apart. For me, though, I wanted to apply the words "things fall apart" to a way of working, or, perhaps more accurately, not working. What happens when our preconceived notions, all our carefully laid-out plans, even the place we choose to work, fall apart? When in the moment it seems we have finally begun only to find that we have to start over again, forget all our clever ideas and re-think from that moment on to the next? When things falling apart becomes the creative process in itself and this lack of cohesion offers the clearest path to discovering something new?
This was the situation which faced me when I arrived at the Kunstraum Walcheturm to start recording. The Kunstraum Walcheturm is an art space located in the center of Zurich, not far from the main train station. The building itself belongs to a former Swiss army barrack, built around a large courtyard spreading out in front of the Kunstraum Walcheturm, which used to house the army's stables. The room I recorded in is large: 320 square meters with with a 3.80 meter high ceiling. Both floor and ceiling are of wood, giving the room very warm acoustics, aside from the fact that the floor creaks tremendously when one walks over it! I've performed many times in this room, heard many concerts there and know its sound very well--or at least I thought I did.
A few years ago I used the room to record two pieces for the cassette "Walcheturm" on the Banned Production label. At that time, though I was attracted to the sound of the room, I think my primary concern was to just have a quiet place to record in. Patrick Huber, the director of the space, recently offered it to me again during a pause in his production schedule. In fact, only a very short pause of one day. So I took this as an opportunity, with what I thought were all my ideas ready to realize.
Arriving the evening before to set up my instruments and recording gear, everything was quiet. For once, the adjoining restaurant didn't have a disco going or some boisterous event. The sounds of the city barely registered from outside. Unfortunately, it was late and I was too tired to start recording. I decided to return in the morning and get an early start.
When I arrived the next day, the first thing I noticed was the many horse-drawn wagons parked directly in front of the Kunstraum Walcheturm and all around the courtyard. Zurich's annual Sechselaeuten parade was about to start in a few hours and the courtyard provided a convenient place to park the horses and wagons until the parade got rolling. The jingling of all the horses' bells and their insistent neighing and whinnying filled not only the courtyard but the inside of the Kunstraum Walcheturm as well. Obviously, there was no way I could start recording now. Instead, I decided to walk around and make recordings of the ambiance there, hoping I might use this for the CD. I'd originally been thinking of just using this day recording as a means of collecting material to compose with later. The idea of recording complete pieces direct and unedited wasn't on my agenda at this point.
I finished recording and went to grab a coffee. When I returned, the horses and wagons were gone but now a huge wedding pary was slowing filing into the restaurant next door. And this wasn't just any wedding party, but a Tamil wedding party, complete with a band and what looked like at least a couple hundred guests! It seemed now that things were truly falling apart for me, as when this party got going I would surely not be able to record anything except maybe the party itself. But, amazingly, the party wasn't that loud and deep in the recesses of the Kunstraum Walcheturm's main room I was able to start working.
Walking around the room alone now I slowly felt how the acoustics of the space and the sensation of being there cast something akin to a spell over me. The idea of just collecting a bunch of material to work with later now seemed completely irrelevant. I decided that I wanted to work with the room, activating the space with my sounds and in turn letting the space activate me with its atmosphere and acoustical possibilities. The pieces on this CD were recorded "as is," which is to say I didn't re-work them. Just some basic equalization and editing off the empty space before and after each piece's beginning and end. None of these pieces were planned, which doesn't mean "improvised" (though they were) but that in most cases I really didn't have any preconception of what I wanted to do over the course of the day, instead letting my intuition and the room itself guide me from one piece to the next. The idea of working with my voice really only occurred to me as the experience of spending so many hours in the space began to grow on me. I felt prompted to use my voice, that the space practically demanded this from me. When the party next door finally dispersed later in the evening, I was left with a very silent space--which made it possible to do some of the quieter takes on the CD. The piece "Night" was the last piece I recorded that day.
So, yes, in the end many things fell apart here: the actual feasibility of the recording space, my ideas for working--even to the point that I tried approaches which I'd never pursued before. Much fell apart but in the end this collection of pieces miraculously came together.




hear "Im Raum"



hear "Split Hum"



hear "Wait"



hear "Last Drum"



Price including shipping to Europe: 12.00 euros

Price including shipping to rest of the world: 14.00 euros

Price including shipping to Switzerland: 10.00 euros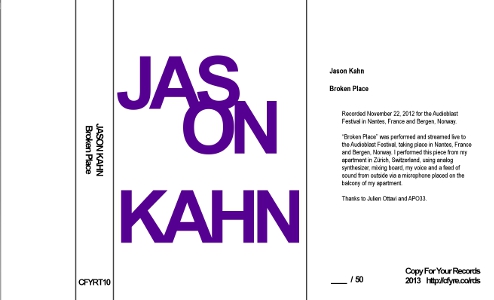 Jason Kahn
"Broken Place"

Jason Kahn: voice, analog synthesizer, mixing board, short wave radio

Side A (36.15)
Side B (31.43)

Recorded November 22, 2012 for the Audioblast Festival in
Nantes, France and Bergen, Norway.

"Broken Place" was performed and streamed live to the Audioblast Festival, taking place in Nantes, France and Bergen, Norway. I performed this piece from my apartment in Zurich, Switzerland, using analog synthesizer, mixing board, my voice and a feed of sound from outside via a microphone placed on the balcony of my apartment.

CFYRT10 cassette
Edition of 50




hear an excerpt of "Side A"



Price including shipping to Europe: 12.00 euros

Price including shipping to rest of the world: 14.00 euros

Price including shipping to Switzerland: 10.00 euros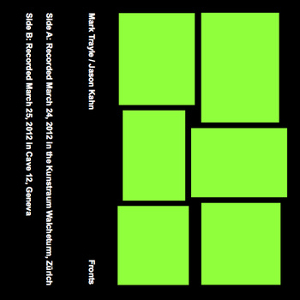 Jason Kahn / Mark Trayle
"Fronts"

Mark Trayle: electronics, guitar
Jason Kahn: analog synthesizer, mixing board, short wave radio

Side A (26.19) Recorded March 24, 2012 in the Kunstraum Walcheturm, Zurich
Side B (19.14) Recorded March 25, 2012 in Cave 12, Geneva

Recordings and cassette cover art Jason Kahn

Khalija 043




hear an excerpt of "Side A"



Price including shipping to Europe: 12.00 euros

Price including shipping to rest of the world: 14.00 euros

Price including shipping to Switzerland: 10.00 euros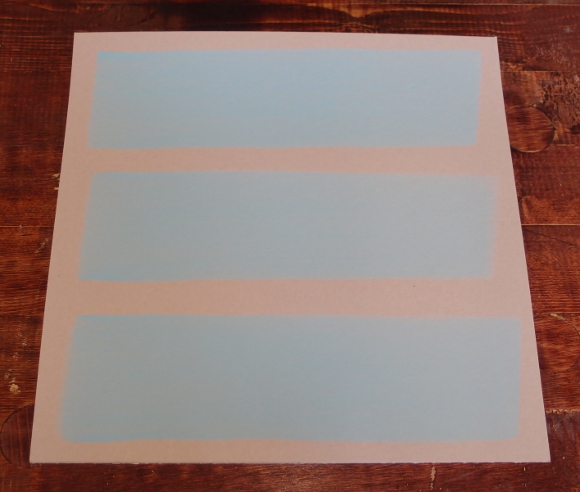 Jason Kahn
"Open Space"
(2013)
Editions 002 Double LP

Edition of 250
Heavy weight 180 gram vinyl.
Hand-painted covers on thick gray cardboard.

Jason Kahn // composition, electronics
Chris Abrahams // piano
Laura Altman // clarinet
Monika Brooks // accordion
Matt Earle // electronics
Rishin Singh // trombone
Adam Sussmann // electronics
Aemon Webb // guitar
John Wilton // percussion

Recorded January 19, 2012 at
the now NOW festival in Sydney,
Australia by Jonathon Watts

Cover artwork, mix and mastering by Jason Kahn.

LP liner notes by Rishin Singh.
Download liner notes here.

Side A: 15:00 / Side B: 19:00
Side C: 19:00 / Side D: 17:00



Excerpt Side A



Price including registered post to Europe: 29.00 euros

Price including registered post to rest of the world: 34.00 euros

Price including post within Switzerland: 30.00 swiss francs


I've been composing graphical scores since 2004. Each score has been done for a particular group, and not just for a certain set of instruments but also for specific persons, each with their own personal sound and their own distinct approach to improvisation. The scores hover in the gray region between composition and improvisation. They create a situation where the players are free up to a point to improvise but in which they could also find themselves in juxtapositions with other players which they might not have personally chosen, thus throwing a metaphoric wrench in the proceedings.

The question has been posed several times, "But why do this? Why not just let the group improvise freely?" I'm interested in when a playing situation becomes unstable, when the players find themselves in situations which test the comfort zone of how and with whom they want to play with. The scores serve as a conduit for this process. But they are also more: they allow me to shape a playing environment, taking into account the different players, their instruments, even the notion of the playing space itself as one of the more decisive factors in the outcome of a piece. Beyond all this, as a visual artist I'm fascinated with the process of the graphical representation of sound: how we can depict a certain sound or way of playing graphically and how others can interpret a graphical form as a sound.

Two parameters govern the scores: the vertical axis indicates the general dynamics of the playing, the horizontal axis is a time line. I draw graphical forms for the musicians to interpret as they wish. I only ask that all dynamic and timing indications be adhered to as closely as possible. I give no information on how the graphical forms should be reacted to.

"Open Space" was commissioned by the 2012 now NOW Festival in Sydney, Australia. I chose some of the players myself, and some were suggested to me by the group's trombonist Rishin Singh (who also wrote the liner note to the LP). For the people suggested to me, and for whose work I was not familiar with, recordings were sent to me of them playing. On the basis of these recordings and my own personal knowledge of the other players, I was able to construct the score. I also knew that I wanted to work with a large group because the space we would be performing in would be a large one (which I'd already played in at the 2011 now NOW Festival).

The title "Open Space" refers both to the idea of working in an open space: the physical space of a room as well as the spaces of player interaction within the group and in reaction to the performance space itself; and to the notion of opening that space between improvisation and composition, delving into the friction and conduction which lie between these two approaches and opening this space up to discover the possibilities which lie therein.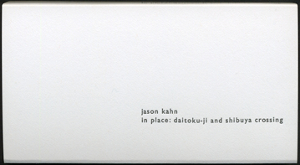 Jason Kahn
"In Place: Daitoku-ji + Shibuya Crossing"

wm33 Cassette

http://windsmeasurerecordings.net/catalog/wm33/




hear an excerpt of "In Place: Daitoku-ji"



Price including registered post to Europe: 12.00 euros

Price including registered post to rest of the world: 14.00 euros

Price including post within Switzerland: 10.00 swiss francs

Since 2011 I've been developing a series of works entitled "In Place," in which I address the process of what transpires when I go to a place to make a recording. Of course, I come away with a recording of something. I've made my catch of material or perhaps a stand-alone composition or panoramic still life. But more than this I take back with me the experience of spending time in a place, absorbing that place in all its details: its sights, its sounds, how on emotional and intellectual levels I interacted with this place. When I'm back home listening to the recordings a rush of memories accompanies them, much like Proust's famous biscuit in his cup of tea unleashing a torrent of recollections from his childhood. My mind wanders beyond the recordings and their subtleties. I begin to think about the place, how I felt being there, what that place was about in terms of its social context, its function; how people reacted to me being there, to what my mind was thinking while I was making the recordings -- all this mental and emotional material existing alongside the snazzy sound files I'd manged to make with all my shiny equipment.

So I decided, why not just write a text about this process, about my time spent in a place making a recording? And the text itself would be the actual recording, with my reading the text a presentation of the place. My words and the emotions they convey...will this reveal more about the place I've spent time in than an actual sound recording? Or just something different? What does it mean to spend time in a place and just being there? Not "doing" anything there. Not making a recording. Not taking notes. Not making photos or doing anything at all but just being there?

"In Place" is also to a large extent influenced by my reading of the works of Henri Lefebrve, in particular his two books "The Production of Space" and "Rhythmanalysis." Lefebvre dissects the issue of space, what constitutes a space, how we can create a space, what the social elements are of a space and how we interact with a space on these different planes. The daily rhythms of life, the dynamics of time passing and spaces changing over time, both on the grand historical scale from erection to ruin, as well as on the daily level all shape how space is formed and experienced. And these are precisely the issues I want to explore in spending time in different spaces, investigating them, experiencing them and then reflecting about them. "In Place" exposes what remains at the juncture between the space's physical presence and the presence of my voice, embodying my experience of that space on all its planes.

On October 1, 2012 I spent twelve hours (5 AM to 5 PM) in the Daitoku-ji temple complex in Kyoto. More specifically, I was sitting in front of the main Hon-do and by the Sentai-Jizo. The Daitoku-ji temple complex is actually a large grouping of twenty-four sub-temples. Though not all of the sub-temples are open on a daily basis, and those that are only from the morning till the early evening, the main temple grounds are always open to the public. Many people from the surrounding neighborhood pass through the temple grounds each day, walking their dogs, jogging, coming to prey or just to take a relaxing detour away from the city outside. And, of course, many tourists also come but not in the droves which afflict many of Kyoto's more famous temples and shrines. I was living nearby the temple and passed though the main grounds nearly every day. I couldn't think of a better place in Kyoto to spend a long day.

On October 11 I spent ten hours (6 AM to 4 PM) at the Shibuya Crossing in Shibuya, Tokyo, shifting my position throughout the day to each of the four corners which delineate the crossing. This intersection is home to some of the most dense accumulations of people in Tokyo, with wave upon human wave emptying from Shibuya Station and disappearing into the office towers and businesses of the Shibuya district beyond. Large video screens mounted on buildings at three points of the crossing drench the area in sound and light. The air is incredibly polluted from the constant traffic. One corner of the crossing is a favorite place for political demon strations, which pretty much go on through the whole day. From my many visits to Tokyo I was familiar with Shibuya Crossing. It seemed to epitomize for me some of the best and worst elements in Tokyo. I wanted to spend a day getting past the glare and noise of Shibuya by planting myself at its epicenter.

I chose these two locations to juxtapose what I felt were the most extreme ends of modern Japan's cultural spectrum. And I wanted see what it would be like to experience first hand these two very different yet, in some ways, very similar spaces by spending a day in each. I would be lying if I claimed to have gotten to the heart of these two places by spending some hours there, but I do feel that I scratched the surface and moved beyond my earlier impressions. I only hope that through the sound of my voice reading the texts which I've written about these places, that the listener will also come away with some essence of Daitoku-ji Temple and Shibuya Crossing.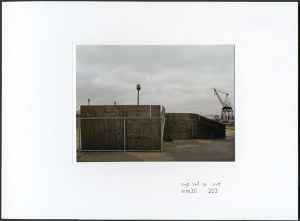 Various Artists
"v-p v-f is v-n double [field] compilation series, 203"

Patrick Farmer, Daniel Blinkhorn, Martin Clarke, Hideki Umezawa, Renato Rinaldi, Ben Owen, Jason Kahn, Jez Riley French, Eric La Casa, Sally Ann McIntyre, Simon Whetham, Lasse Marc Riek, Michael J. Schumacher, Alan Courtis

wm30m double CD

http://windsmeasurerecordings.net/catalog/wm30/

I have an excerpt from my piece "In Place: Panorama Weg, Zurich" on this sampler, presenting different takes on the practice of the "field recording."





hear "In Place: Panorama Weg, Zurich"



Price including shipping to Europe: 12.00 euros

Price including shipping to rest of the world: 14.00 euros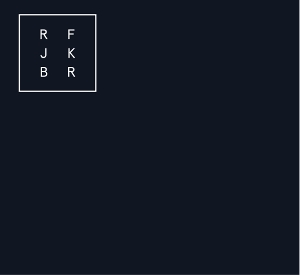 Richard Francis/Jason Kahn/Bruce Russell
"Dunedin"

Richard Francis: modular synthesizer, computer
Jason Kahn: analog synthesizer, radio, mixing board
Bruce Russell: analog electronics

CMR27 CD

Recorded in concert January 28, 2011 at Dunedin Public Art Gallery, New Zealand
Mixed by Jason Kahn
Cover by Richard Francis

Duration: 37.48 minutes

"Dunedin" documents a concert at the Dunedin Public Art Gallery in New Zealand with Richard Francis (modular synthesizer, computer), Jason Kahn (analog synthesizer, radio, mixing board) and Bruce Russell (analog electronics). Recorded on January 28, 2011, three seemingly disparate approaches collide here for a 38-minute improvised set of immersive sound and fractured electronics. Russell's analog system cleaves a path through Francis' thick cloud of dusty field recordings and swirling standing waves; Kahn's chaotic feeback system of synthesizer and radio spikes and sputters, like a dying bird in the midst of some caustic low pressure front moving slowly across the horizon. It's a wild ride.





hear an excerpt



Price including shipping to Europe: 12.00 euros

Price including shipping to rest of the world: 14.00 euros